Immerse Yourself
In Your Writing
Unplug from your daily life.  
Write when you choose.
Your time is your own
at Draco Hill.
Draco Hill Writers Retreat offers: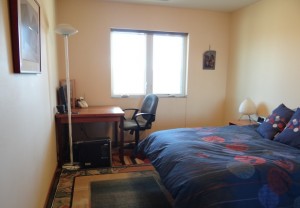 Two quiet rooms and patio with private access
80 acres of walking trails to enjoy the river, woods, prairie and pond
Fully-equipped kitchen
Free wireless and long distance phone (continental U.S.)
Includes a meal per day provided by your hosts
Up to 20 pages printed per week of stay
Consultation with your host, Suzan Erem, an experienced nonfiction writer and book author
30 minutes from Iowa City, a U.N. City of Literature, home to the University of Iowa Writers Workshop and Summer Writing Festival
Isn't it time your writing came first?
 Contact us today for availability and more information.
"It was perfect in every way! Very comfortable! I didn't expect to eat so well. Meals and desserts exceeded my expectations!"    Karen Z.