We've hosted five volunteers from the Worldwide Opportunities on Organic Farms (WWOOF) network.
So far and it's been a great experience again this year. Interesting in WWOOFing? Contact us about remaining openings.
First through were Billy and Danielle. They were here in our chilly March, and helped do almost all the prep for the big permaculture workshop we hosted. Here they are helping haul and chip wood for mulch.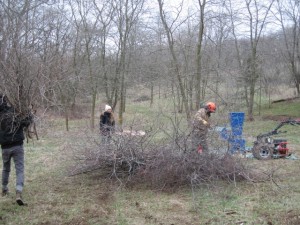 Then came  Joakim, from Denmark. Aside from helping me plant 150 chestnut oaks where our sugar maples had been before the deer ate them all, he helped farmer Grant over at Morse Farm put in 1,000 chestnuts and some paw paws to boot. He also built us a beautiful bench, from a fallen cherry tree, made almost entirely with hand tools.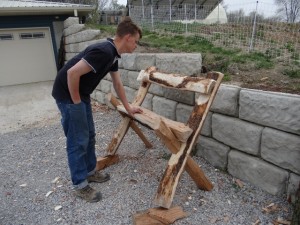 We'll be putting it up by the pond for folks to rest on as they pass through.
Next Andrea from Grimes arrived and helped with more trees – this time some large apple and plum trees we planted along our driveway. She also helped Paul put in an ambitious and well-fortified blueberry patch.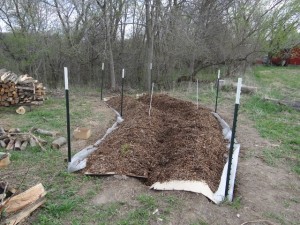 Some WWOOFers like to leave a little project behind, like Joakim and his bench, Coop and Jackson Manor. Andrea made us this wonderful dragon out of yarn! I LOVE it!
The latest is Dorota from Chicago who has been working hard on Morse Farm while also pitching in here at Draco Hill. Garlic mustard pulling, tree planting and this weekend planting our cucumber and tomato transplants before she goes home for Mothers Day with her family.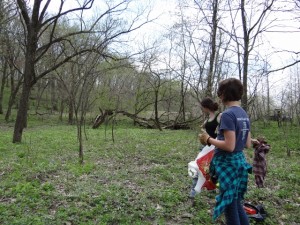 We enjoy having WWOOFers come through all summer and farmer Grant could use the help! 
If you know anyone interested in learning about
organic farming
woodlands and prairie restoration
ecology
restoration agriculture or
permaculture
we still have some openings! Please let us know.