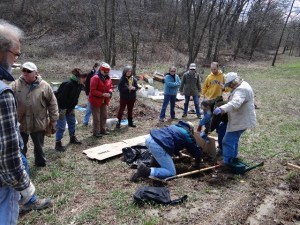 Pictures can't capture all the work we accomplished today but I'll give it a shot. We started with huge piles of wood chips, a few muddy, crooked swales, a big assortment of fruit trees and fruit and nut shrubs ranging from 5 inches to 5 feet tall, 3 massive piles of cardboard – some of which had been washed 20 feet away by recent downpours – and 19 willing souls putting their backs into it over the course of the bright, sunny day.
When we were done, all the trees were in the ground, with a little boost from Root Rally innoculant and some vermicompost tea. Then they were juiced with a little fresh sheep manure around the top, covered with cardboard, then covered with wood chips. For added protection against the brome grass, we laid landscape cloth around the edges and covered that with wood chips too.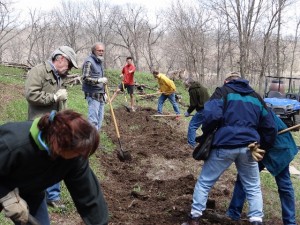 A few crews transplanted blackberry brambles in a line around the permaculture bed. We hope they and other lines of defense (cages, tree shelters, Irish Spring soap, deer repellent…) will keep the worst of the animals from nibbling on the new plants.
Thank you everyone who came to assist, to learn and to break bread with us at Draco Hill. You're invited back any time to see how the bed is progressing, and we'll post photos as interesting things happen. Sign up for our blog update (bottom of the home page) and you'll get occasional updates about what's happening here.