Tonight we decided to rebuild our guinea flock, so we drove over to our distant neighbor Dwight Iles and picked up six new babies!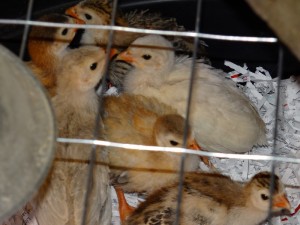 They're in our makeshift brooder for now maintaining a nice warm temp for them and keeping them safe from themselves and others (namely Buddy and Jackson). There was the traditional and brave attempt at escape, of course, as we transferred them from their box to the brooder, but eventually we got them all in. Sorry folks, no horribly embarrassing photos of full-grown humans crawling under and around work benches and cars to catch 4-inch birds darting about!
We have coral blue, royal violet and a few other colors we didn't have before. In a few months we'll move them into the coop, and with any luck they will eventually join with our current flock of seven males. Let's hope a few females survive this time. We'd like to get some eggs out of these babes!