Water management has been a top priority at Draco Hill from the start. No one wants a wet basement, but imagine your whole house is a basement built into the high side of a hill. We also wanted to conserve water resources, which meant being innovative in rainwater recapture systems.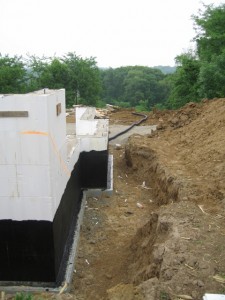 For the house, builder Roger Laughlin took special pains to address water issues when building the envelope, which is sitting on 6 inches of gravel, sealed with tar and outfitted with downspouts that travel underground to let out far downhill and away the house.
Soon we realized we wanted to recapture the water pouring off the metal roof. So we installed rain barrels. (When they tell you do to the math on square footage of roof and how many gallons will move off that roof, do it!)  Most were overflowing within minutes of an Iowa spring gully washer.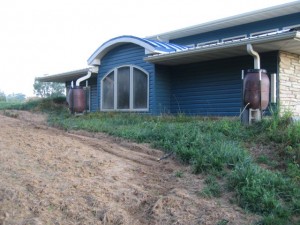 So more recently we're attempting to capture that water and put it straight into the gardens. That's how we came up with incorporating living on a slope with water management and good land stewardship.
Swales and berms have become the key architectural element of our gardens, and downspouts from 2/3 of our roofs flow directly into those gardens.
The drought of 2012 hasn't allowed us to truly test this system yet, but we're hoping 2013 brings more opportunities. We'll keep you posted!