Tornado warnings yesterday. Snow today. 78 degrees three days ago. 28 degrees today. Must be spring in Iowa!
Despite the wicked weather, things are greening up. Better than that, we saw this eagle land in the tree in front of the house. That's a good sign that we have a nest nearby. Last week when we went to check out the next we are monitoring as part of the DNR's eagle monitor program, we discovered the nest had been stolen by a pair of Great Horned Owls! The DNR folks tell us that it's not uncommon, since the owls nest a little earlier than the eagles and they're big enough to fend off eagles.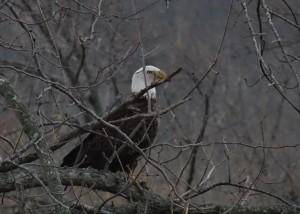 As soon as the weather clears, we'll be out looking for the nest that this one belongs to.