Well, it was a first at Draco Hill. We hosted Republican State Rep. Bobby Kaufmann to meet with local family farmers – small-scale fruit, vegetable and livestock producers in the region.
And he surprised us.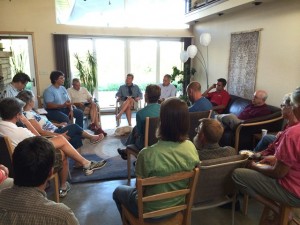 Bobby (as he likes to call himself) said that thanks to his introduction to the issues by Iowa Farmers Union members at their lobby day last year, he has become newly energized and educated about local food and small farmers in his district.
We talked to him about
increasing fines for negligent drift onto our farms, and improving basic technology at the Pesticide Bureau to make it more effective
better and easier access to markets for small livestock producers since they don't have the guaranteed market the CAFO-scale producers do and
providing support for local food initiatives direct to farmers.
More than 15 farmers and friends of family farmers attended and everyone joined in. Almost all of them were Iowa Farmers Union members, and more vowed to join, including Bobby! Next up – a meeting with candidate David Johnson to see what he has to say about these issues.
Personal note: We especially appreciated the fact that Rep. Kaufmann came out to Draco Hill early so we could give him a tour. Some of his new experiences, gauging from his response, included learning about permaculture, breaking open milkweed to see the "milk" and getting a scent of anise hyssop, a native perennial that smells and tastes like black licorice.