We had the first hint of spring today with 40-degree weather. So it was time to finish up some tree pruning before they break dormancy (or as the rest of us say it, "wake up"!)
Nothing like doing a spring activity in the snow to remind you you're in Iowa.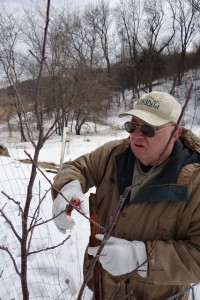 Thanks to Neighbor Margaret who gave us a brief tutorial last week, and to Paul over at Wilson's Orchard who did  a workshop the week before, we pruned everything in the upper orchard closer to the house, and moved down to the lower orchard that volunteers from Backyard Abundance helped us install last year.
The trees are looking very robust and we're seeing signs of life – giving us hope not everything died during this incredibly harsh winter. Some are just busting out of the tight cages we had them in…New cages are a project for when the snow melts and releases the cages from its frozen grip!