Thanks to all this rain, we've seen a lot progress in our original permaculture orchard as well as the new one created by the workshop earlier this year.
Sorrel, comfrey, tansy and yarrow and chamomile are taking off in the upper beds, where we've also planted strawberries, oregano, elderberries, hazelnuts and more. (Find a more complete list for the upper orchard here.)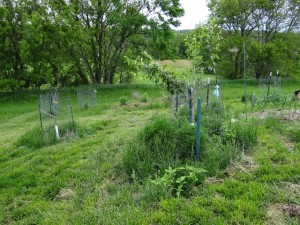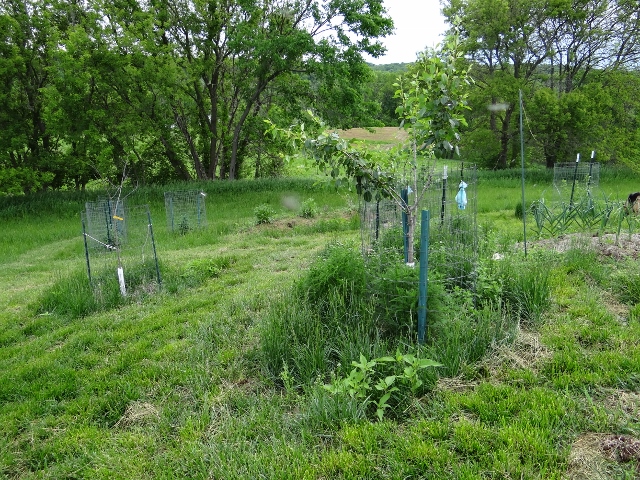 We will continue to expand the circles around each tree until we no longer have to mow between them, creating natural barriers for deer that will allow us to remove the cages and providing low-maintenance food, herbs, medicines and mulch for ourselves and our other gardens.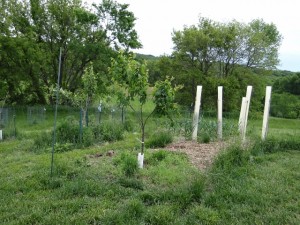 But in the lower orchard, the brome grass is trying so hard to attack the trees. Thanks to the many volunteers and WWOOFers who helped build the beds though, the wood chips and cardboard are holding their own, giving our young fruit trees and nut and fruit bushes a chance to get established.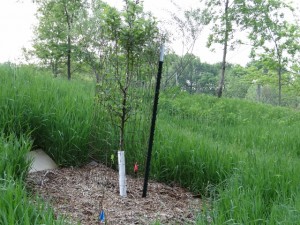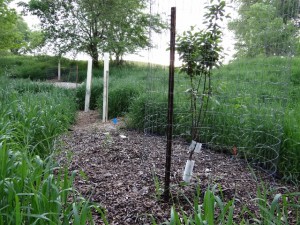 And we continue to try to cover the swales so they don't get taken over by brome. Cardboard is a start, but we continue to look for a source for woodchips (we've nearly exhausted the huge pile our neighbors had). Next year we'll plant clover and other beneficial herbaceous plants and hope it can compete.