Outdoor Adventures, a Iowa City-based kids' camp launched by Marc Falk and Matt Wiegand, came to visit last week, bringing lots of laughs and splashes to Draco Hill's little-used and kinda scummy pond. With this crowd, the more scum the merrier and Jackson the Wonder Dog of course, agreed!
They found lots of tadpoles, some dragon fly nymphs, a raccoon skull and other cool stuff. They also tried out Draco Hill's Scavenger Hunt, (created by WWOOFer Maya last year) which was a big success as they learned the different names of prairie flowers, bugs, berries and birds.
Draco Hill invites children of all ages, students and classes to come use our place for fun, education, research and more. We enjoy having people around and love the learning we can enjoy alongside you. It's a great free class trip for school teachers and a wonderful way for us to spend our day.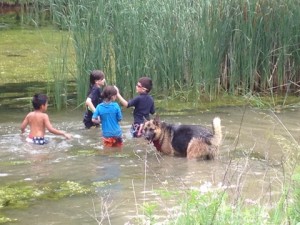 If you know any teachers hungry to get their kids outside, please have them contact us. Thanks!