The Iowa City Bird Club came to see us this weekend and identified 26 kinds of birds while they were here.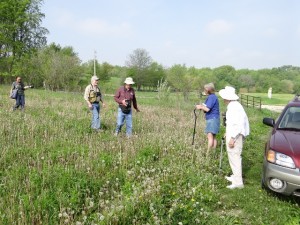 Eurasian tree sparrow
Wild turkey
American goldfinch
Baltimore oriole pairs
Red-winged blackbird
Indigo Bunting
House finch
Rosebreasted Grosbeak
Northern cardinal
Field sparrow
Chipping sparrow
Common yellowthroat
American redstart
Gray catbird
American robin
Blue-gray gnatcatcher
Winter wren
Tufted titmouse
Eastern kingbird (2 nests)
Northern flicker
Red-bellied woodpecker
Ruby-throated hummingbird
Mourning dove
Red-tailed hawk
Turkey vulture
Canada goose
Thanks Karen Disbrow, president, for the list and thanks to our friend Betty Kirchner from Pennsylvania for instigating the contact with the bird club.
In addition, we've seen or heard here at other times
Bald eagles
Pileated woodpecker
Barred owl
Great blue heron
Eastern meadowlark
Rough-legged hawk
Harrier hawk
others we'll list when we remember them!
And to top it off, today we saw barn swallows in our solar array. Photo by our daughter Ayse Yeager.