Summer visitors and events at Draco Hill…so far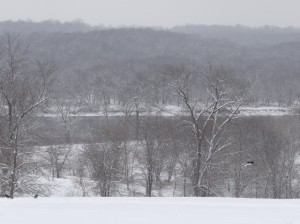 The snow is falling and yet fingers are itching to get into our geodesic dome and plant some lettuce in those indoor beds! All I need is one sunny day to inspire me to take the leap.
WWOOFers are scheduled for April and May so far, with one WWOOF guest coming all the way from Denmark the last two weeks of April. More space is available. Contact us if you're a WWOOFer wanting to join us here.
April 27 we pick up a big order of perennial plants and fruit trees from the Backyard Abundance sale and will be setting up a new permaculture experiment. After having established one effort on our own from reading a lot of books, we're now going to hire a designer Backyard Abundance to develop a plan for us in a different location and see how that differs. We'll keep you posted on when that designer will come offer advice and insights into the plan.
May 18 the Iowa City Bird Club is arriving at 8:30 (I'm no birder, but that's kind of late in the a.m. isn't it? I'm not complaining!) Join us for a walk and some refreshments afterwards. (Anyone know what this beauty in the picture is? It's HUGE and blacker than any regular red-tail hawk around here. Not quite as mottled as the young eagles. It landed in the tree about 70 feet from the house.)
Also in May, the local FFA instructor has shown interest in bringing her students here and maybe working up some projects. Iowa DNR's Mary Skopec from the Iowater project has said she will do some water and soil testing. We hope to track the effect of the riparian buffer on water quality and the prairie planting on soil quality.
We also hope the summer will be a little wetter. The drought contributed to few mushrooms last year. With any luck we'll see some shiitakes this year from the logs we inoculated last spring.
Do you know anyone interested in seeing what we're doing here? Please send them the link to Dracohill.org. We enjoy making new friends!