Draco Hill is the dream-in-progress of husband and wife team Paul Durrenberger and Suzan Erem and their daughter Ayshe Yeager. It is 80 acres of former farmland, pasture and woodlands on the Cedar River in Eastern Iowa. We hope to rebuild and detoxify the soil, then put some of the land into healthy, natural orchard for a future farmer.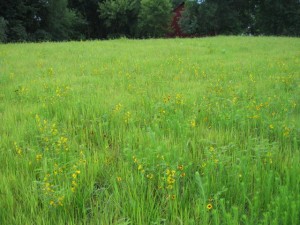 We bought this land in 1997 and moved here in 2012 when Paul retired. We are in the act of restoring the farmland to prairie and forest, controlling invasive species, managing our woodlands and opening up opportunities for a cherished prairie remnant to reassert itself.
In 2014, after learning more about the plight of beginning farmers and outrageous land prices, we realized we could be contributing to the problem, so we launched an effort to put our land "back into production." Inspired by the work of Mark Shepard and Grant Schultz, and motivated by the complaints of the National Young Farmers Coalition, we are renovating the old farm terraces that are overgrown with box elders and weeds to grow apples, pears, plums, berries and nuts. We hope that some time in the future, a beginning farmer can use the fruit and nuts to augment a larger sustainable farming operation at Draco Hill.
We invite you to join us in this adventure here virtually and in person. Contact us if you have questions about our energy efficient home or our work on the land. We're no experts. We're just interested in paying forward all the good deeds and knowledge people have provided to us since we've undertaken this project. We consider it all part of the karmic economy.
More about the history of Draco Hill.